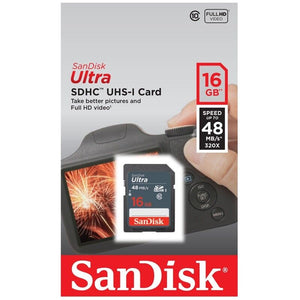 Brand New
(Sealed RETAIL PACK)
 Latest Version: 48 Mb/s 320X Class 10

Class 10 Performance for Seamless Full HD Video Recording
A class 10 video performance rating makes this card ideal for HD camcorders and Full HD (1080P) video enabled cameras.
SanDisk Ultra cards have plenty of room to accommodate high-resolution image formats, such as RAW and JPEG. Available in sizes up to 64GB, these cards can store thousands of photos and all your favorite video clips.
Fast Read Speed Reduces Upload Time
The card boasts a read speed of up to 48MB/s, so you can transfer photos and videos to your computer quickly and easily. You'll be able to edit, store, and share your photos faster than ever before.
Durable Design
SanDisk Ultra SDHC/SDXC Cards are designed to handle whatever life throws at them. These cards are shockproof, X-ray proof, and waterproof. The card operates in temperatures ranging from -13 to 185 degrees Fahrenheit, so you can capture memories in almost any climate. Your SanDisk memory card will survive, even if your camera doesn't.
Performance/speed: Up to 48MB/s read speed; write speed lower
SDHC card dimension: 0.94" x 1.25" x 0.08" (24 mm x 32 mm x 2.1 mm)
Operating temperature: -13ºF to 185ºF (-25ºC to 85 ºC)
Storage temperature: -40ºF to 185ºF (-40ºC to 85ºC)
Compatibility: SDHC (8-32GB) cards are compatible with all SDHC/SDXC enabled host devices
SDXC (64GB) card is compatible with SDXC enabled host devices.
Security: Built-in write-protect switch prevents accidental data loss