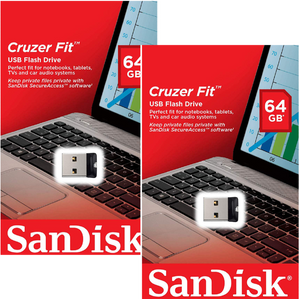 Brand New
(Sealed RETAIL PACKS)
Lightweight, storage solution!

Why leave your photos, videos and music at home when you can take them with you? Experience premium, reliable and secure storage with a Cruzer FIT 64GB USB flash drive.

Features / Specifications:
Premium, reliable and secure storage for your videos, music, photos, or other files.
Includes SanDisk SecureAccess software to protect access to your personal files with a password-protected private vault.
Backed by the protection of a two-year limited warranty
Convenient: So light and portable, it can be taken anywhere.
Ideal for Video. The easy way to store, share and play your favorite video files.
Retail packaging.
* 1 gigabyte (GB) = 1 billion bytes. Some capacity is not available for data storage.
General Features:
Capacity:2 pcs of 64 GB each