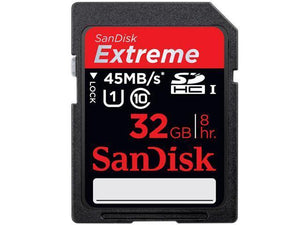 Brand New
(Sealed RETAIL PACK)
 Latest Version: 45 Mb/s 300X Class 10

  (NOT THE SLOWER 30 MB/S 200X MOST SELLERS ARE SELLING, THIS IS THE LATEST VERSION WITH 45MB/s Speed)
Extreme Technology - based on UHS-I bus architecture for increased speed so you'll be ready to capture it all
Extreme Reliability - advanced Error Correction Code (ECC) engine improves overall data integrity and reliability of the card during read and write
Extreme durability - built for and tested in the harshest conditions; temperature proof, water proof, shock proof, and x-ray proof


Features / Specifications:
32GB capacity.**
Speed performance rating of Class 10
UHS-1 compliant.
Extreme speed at up to 45MB/second read/write (300X)
Sandisk Extreme SDHC card backed by lifetime limited warranty
Download photos and video to PC fast and easy with read speeds up to 45MB/sec (200X)
Capture HD video on Class 10 camcorders and video-enabled DSLRs
Store up to 8 hours of HD Std Quality video.
Shoot HD video without compromise.
Retail packaging - includes a free 1-year subscription to RescuePRO recovery software.



**Please note: Not all devices support SDHC memory cards. Please confirm compatibility with your device manufacturer before purchase. The seller is not responsible for incompatibility issues.