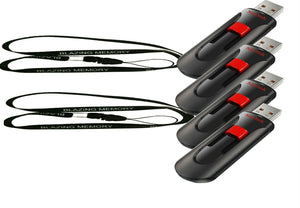 Brand New
Lot of 4 SanDisk 128GB Cruzer GLIDE USB Pen Thumb Drive +2 Lanyards 512GB total
Comes with 2 lanyards to conveniently wear the USBs around your neck 
(Sealed RETAIL PACK)
Product Features

4x128GB Capacity

Comes with 2 lanyards to conveniently wear the USBs around your neck

Retractable Slider protects your USB Connector

Secure storage meets simplicity with the Cruzer Glide USB flash drive.

Easily password-protect your private files while allowing access to the files you want to share with the included SanDisk SecureAccess software.

Protection and convenience with additional secure online backup (up to 2 GB optionally available) offered by YuuWaa.

Reliable storage for photos, videos, music and other files

Secure Storage for your Personal Files

Retail packaging.
* 1 gigabyte (GB) = 1 billion bytes. Some capacity is not available for data storage.

General Features: