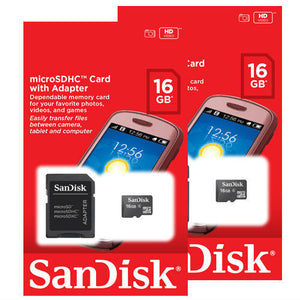 Brand New
SEALED RETAIL PACK
LOT OF 2 SANDISK 16GB MICRO SDHC MicroSDHC CLASS 4 FLASH TF MEMORY SD CARD
Part number: SDSDQM-016G-B35A
Fast shipping from California, USA
High storage capacity (16GB) for storing essential digital content such as high quality photos, videos, music and a lot more
Optimal speed (Class 4) and performance for micro SDHC compatible devices
Easily transfer files between your digital devices and computers
Built to last, with an operating shock rating of 2,000Gs, equivalent to a ten-foot drop
Speed Performance Rating: Class 4 (based on SD 2.00 Specification)
Packaging: Sealed Retail Package


Capacity: 16GB each*

*Due to the way operating systems calculate megabytes, the capacity of a memory card or flash drive will be displayed lower than the stated package capacity.
(Just for example, a 32GB memory card will display approximately 29.7~29.8GB under the operating system (32,000,000,000 megabyte / 1024 / 1024 / 1024 = 29.8023GB. Additional capacity is reserved for flash memory related technology software or controller firmware.)


PLEASE NOTE: Not all devices support SDHC memory cards. Please confirm compatibility with your device manufacturer before purchase. We are not responsible for incompatibility issues and will NOT exchange or refund due to incompatibility issues.