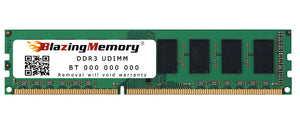 Type: 240-Pin DDR3 DIMM


Capacity: 4GB

Speed: DDR3 1333 MHz (PC3 10600)

Heatspreader: None

Packaging: Safely packaged in Anti-Static Bag

4GB DDR3 Desktop Memory modules that operate at speeds up to 1333MHz.
It is Unbuffered and is non-ECC. This is compatible with various models of Dell, HP, Sony, IBM, Gateway, Emachines, Lenovo, Acer, etc for those use DDR3 PC3-10600 memory.
Please note: Picture is for illustration only. The actual Product look & brand may vary.  !!!